Moussa Dembele has been somewhat of an enigma during his spell at Celtic Park and the Frenchman has frustrated his share of Hoops fans and pundits with his seemingly world class skills one week followed by one or two indifferent performances where it is hard to remember many positives from his play.
The form of Dembele in recent games has been most impressive however.
Celtic boss Brendan Rodgers is blessed with a number of good options these days with Dembele, Leigh Griffiths plus youngsters Charly Musonda and Odsonne Edouard all vying for the starting spot against Rangers in the League this Sunday.
There is a lot to be said for selecting Dembele who is in a rich vein of form having scored 6 goals in his last 8 appearances (and 15 goals on the season in 27 appearances) while Charly Musonda has yet to score in his 8 Celtic appearances and Odsonne Edouard has netted 9 times in his 27 games.
Leigh Griffiths is recently back from the sick-bay having played 5 games after missing over 2 months through injury and he too has 15 goals like Dembele but from 41 appearances.
Celtic former player and club legend Frank McGarvey clearly feels Rodgers should choose Griffiths to play against Rangers as he is in touching distance of 100 Celtic goals, sitting on 98 goals at the moment.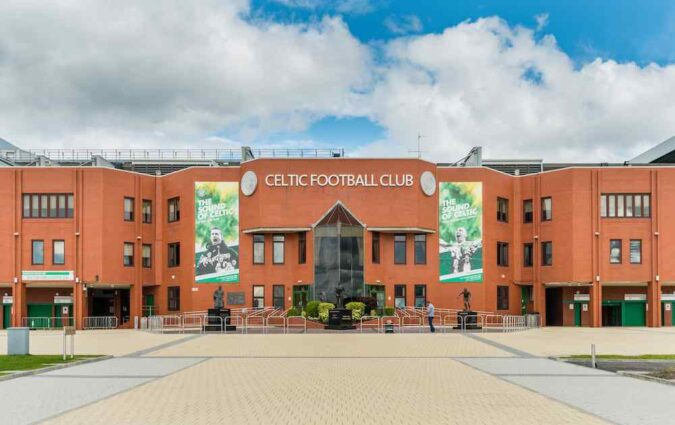 The former Hoops star thinks his old team will clinch the title on Sunday vs Rangers and had this to stay about who should start for Celtic:
"I would pick Griffiths for this game every time. For me, he's Celtic's best striker.
"Dembele can be what he wants to be. On his day, he is a fantastic striker.
"But what day is that? You never know what you'll get from him week to week.
"Griffiths is just coming back from injury and didn't do much against Hibs, but he'll be sharper for the hour.
"If he gets a start against Rangers, there is no way he would let Celtic down.
"He makes clever runs, he scores goals and also creates them. From free-kicks, he is deadly.
"He is on 98 Celtic goals and it's just a matter of time before he joins us in that 100 club.
"I would love to see him do it against Rangers."
Talking about the last meeting between the two rivals, McGarvey went on to say:
"I couldn't really believe the way Rangers stood off Celtic.
"I thought back to the 3-2 game a few weeks before and that was one of the best Old Firm games I'd seen in years.
"You then look at the way Hibs performed against Celtic at Easter Road. They made a real game of it.
"Hibs didn't stand off Celtic for a minute and, while I was disappointed Celtic didn't clinch the title, you couldn't grudge Hibs the win.
"It also means that Celtic now have the chance to go and finish the job against Rangers.
"But I do think it will be a lot more competitive than the last game. It certainly can't be any easier.
"Brendan Rodgers' players will also have a point to prove after losing to Hibs and I'd expect them to be fired up."
So there will be a lot at stake on Sunday as Rangers will not want Celtic to clinch the title against them and will want to lay down a marker ahead of next year's title race.
It will be interesting to see if McGarvey is right on who gets the start upfront but either way there will be plenty of motivation for all involved whether Dembele or Griffiths gets the nod from boss Brendan Rodgers who has been linked with the vacancy at Arsenal after his stint in the Premier League with Liverpool and his impressive record north of the border.